OPzV2-600 Battery
General Features
● Advanced unique Gel filling technology
● Excessive gelatinaized electrolyte
● Long service lifetime in deep cycle application
● Good performance at extremely temperature
● Excellent deep discharge recovery capability
● high and low temperature suitability from -40℃ – 60 ℃
● Proof against deep discharge according to DIN 43539 T5
CONSTRUCTION
● Positive plate – Tubular Plate with die cast Pb-Sb alloy grid
● Negative plate – Balanced Pb-Ca grid for improved recombination efficiency
● Separator – leaf shape polymer separator
● Electrolyte – Dilute high purity sulphuric acid with fumed Silica gel
● Battery container and cover – ABS
● Pillar seal – 100% factory tested, proven two layers epoxy resin seal
● Relief valve – Complete with integrated flame arrestor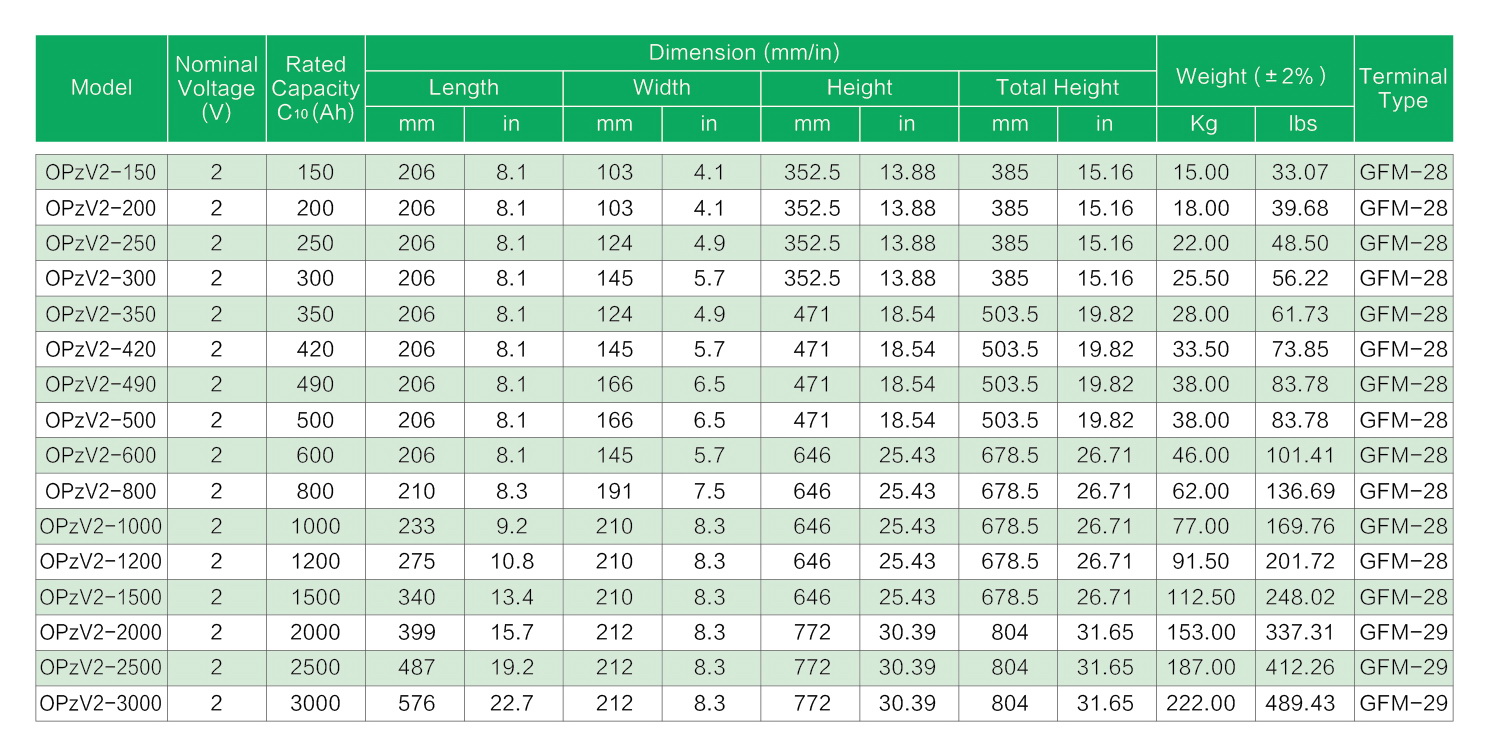 FAQ
How to store solar batteries when not in use?
Deep-cycle solar batteries need to be weatherproofed. The batteries can be buried below the frost line in a watertight container or within a structure where the temperature will stay above freezing if freezing weather are forecast.
What kind of battery is better for a solar inverter?
solar batteries made of lithium. Since lithium-ion solar batteries convert solar energy into electrical energy at the maximum rate (95 percent), they are the most efficient.
Is a23 Battery same as N?
The N battery, which has a voltage between 1.25 and 1.5 V, and the A23 battery have nearly the same size. It is comparable to the A27 battery, which has a similar 12 V nominal voltage and is almost the same length but has a 20 percent smaller diameter.
What are C10 solar batteries?
A C20 grade is considered to be MEDIUM DISCHARGE, while a C10 rating is recognized to be FAST DISCHARGE. For industrial and solar applications, C10 rated batteries are always advised due to their superior charging and discharging speeds. The high load can give more energy quickly because it runs on battery power.
What is a OPZS battery?
The form factor known as OPzS batteries was created for traction systems. They are meant to be stacked and fastened together by their connections. Three primary types exist: PzS, PzB, and PzV. PzS stands for the Lead-Acid battery with the Standard DIN form factor. PzB is the less popular BS (British Standard) lead-acid battery form factor.
What is the difference between OpZS and OpZV batteries?
The tubular GEL battery is called OPzV. The tubular flooded battery is called OPzS. Since OPzS is a flooded cell, the electrolyte, which is often sulfuric acid, is liquid inside the cell. Additionally, the OPzV electrolyte in the battery is in gel form, allowing for easy reconstitution of the electrolyte into water.