Deep cycle battery VS solar battery: solar cells are actually deep-cycle batteries that can provide energy storage for solar, wind and other renewable energy systems. Unlike car batteries, deep cycle batteries are designed to handle long, repeated and deep discharges, which are common in off-grid renewable energy systems (disconnected from the power company).
Deep cycle battery VS solar battery
Deep Cycle Batteries
Battery Bank Sizing: Off Grid Solar Power System
How many deep cycle batteries do I need? Check out our instructional video on deep cycle battery sizing for solar and wind power systems. The video teaches you how to do the load calculations and battery bank sizing.
DEEP CYCLE BATTERIES FOR SOLAR POWER SYSTEMS
Solar Batteries (deep-cycle solar cells) are a key component in an independent renewable energy system-is the solar system off-grid or uses battery packs for backup in the event of a grid failure. If you want to install wind energy, solar panels or hydroelectric power generation systems connected to the utility grid, and if you try to use the power source in the event of a power outage, you still need a deep cycle battery. If there is no deep-cycle battery, you can only use the power source during production (that is, if there is no battery in the solar system, you will not have a power source when the sun is still out).
In renewable energy systems, deep-cycle batteries provide energy storage for the system. Unlike your car battery, deep cycle batteries used in renewable energy applications must be repeatedly discharged and charged (cycled). In order to maintain a healthy battery and extend battery life, most manufacturers recommend limiting the depth of discharge (DoD) to around 20%. (This means that deep-cycle batteries should always have a state of charge (SoC) of 80% or higher.) At least, do not discharge the battery below 50% of the depth of discharge (DOD). Typically, the inverter will have a low voltage disconnect function, which will disconnect the load at a given "set point". The low pressure alarm can also provide an audible alarm. Ammeters, voltmeters, and battery monitors can help better maintain the operating conditions of deep cycle batteries and provide statistical information about the overall operating conditions of the system.
TYPES OF SOLAR BATTERIES
When choosing deep-cycle batteries for storage from solar panels or wind turbines, you can choose to use lead-acid (FLA) batteries, sealed batteries (AGM or gel batteries) or lithium batteries. Keep in mind that FLA batteries require some maintenance, but they usually last longer than sealed batteries. The water drain cover reduces the watering of the battery and can also reduce the frequency of watering the deep-cycle battery. Each 2 V battery requires an exhaust cap.
Learn about lithium deep-cycle batteries
Watch a video about the KiloVault lithium iron phosphate (LFP or LiFePO4) series of deep cycle batteries. These batteries are light in weight, have a long cycle life (over 5000 cycles at 80% DoD), and can be deeply discharged repeatedly without compromising battery life.
DEEP CYCLE BATTERIES STORAGE CAPACITY: BATTERY BANK SIZING
A deep-cycle battery pack consists of one or more batteries, with storage capacity in ampere hours as the unit. Each deep cycle battery can be 2, 4, 6 or 12 Volt DC (Vdc). The choice of each solar cell voltage depends on the total voltage of the system (12, 24 or 48 Vdc) and the required ampere-hours (Ah). 2V deep-cycle batteries usually provide the most storage capacity. However, if your system is 48 volts, you may need up to 24 of these deep cycle batteries. In addition, please see the above video about the battery pack size of off-grid home solar systems, which will cover load analysis, battery pack capacity, array wattage, charge controller and inverter size calculation. You can also use our load calculator to start determining the system size.
WIRING UP YOUR DEEP CYCLE BATTERIES
Connect your solar batteries (ie deep cycle batteries), using solar battery interconnect cables, in series, parallel, or a combination of both depending upon your system voltage and the storage capacity you need. Read more about this in the how to section about deep cycle battery bank sizing. While deep cycle batteries may be a large expense for a sizeable off grid system, with proper care and maintenance, they should last 5-10 years. Let us know how many watt hours per day you need to provide, and the number of days of storage you need, and we'll be happy to offer specific sizing recommendations for your deep cycle batteries.
DEEP CYCLE BATTERIES RANGE WIDELY IN WEIGHTS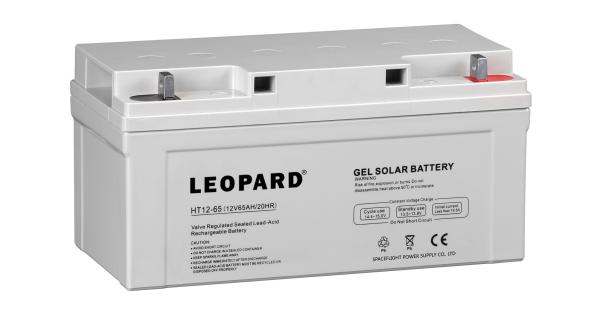 Deep cycle batteries come in many sizes: from batteries less than 10 pounds to batteries weighing more than 200 pounds each! They can be small (suitable for a backpack) or large (2'x 2'x 1′), somewhere in between. Generally, size and weight correspond to ampere-hours (Ah). If you need a lot of energy storage, please make sure you have a suitable space for the battery, and have someone to help you place the battery.
Whether you have a battery or a 36-cell battery, proper storage is essential. The battery box can provide a neat and safe way to contain the battery, or you can build the battery box yourself. People usually add optional battery ventilators or battery fans. When the deep cycle battery is charged, the battery fan can discharge the naturally discharged hydrogen.
DESULFATORS ARE A GREAT WAY TO EXTEND DEEP CYCLE BATTERIES' LIFE
Desulfurizers are another good low-cost investment that can help prevent sulfation and improve battery performance. Acid deep-cycle batteries filled with lead will accumulate sulfate crystals on their lead plates over time. Our desulfurizer will electronically "shake" these sulfate crystals off the surface, and can extend the life of batteries that would otherwise need to be discarded.
CAN I ADD BATTERY BACKUP TO A GRID-TIED SOLAR SYSTEM?
Yes, you can! In view of the increasing frequency of extreme weather, adding battery packs to grid-connected (or grid-connected) solar systems is a possible and increasingly popular option. Watch our video where we introduce two main methods of adding batteries back to existing grid-connected solar systems. If you are already using the sun to create energy, there is no reason why you cannot store your energy when the grid is off.