lLead-acid Batteries Develops Steadily
With the development of the lead-acid battery industry, currently it has gradually shifted from relying on factors of production input to innovation. Besides, the industrial transformation, upgrading and green development have become a consensus. Green manufacturing and products are leading the industrial transformation and upgrading.
According to 2019 data released by the Lead-acid Battery Association, the lead-acid battery industry produced 278 million kVAh last year, worth $198 billion. Among them, the economic scale of the leading backbone enterprises has increased by more than 10%, and the overall economic scale of the industry has maintained a good development momentum. In 2019, China's automobile industry maintained a good state of development so that 100% lead-acid batteries are used in automobile batteries at present. The growth rate of lead-acid batteries in automobile batteries in 2019 also maintained a year-on-year growth rate of about 9%.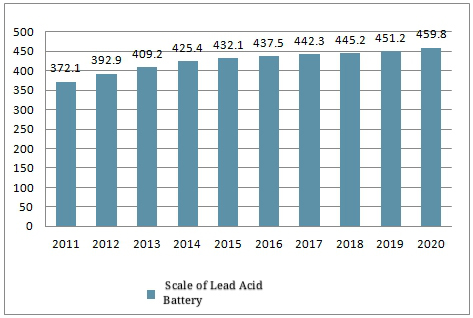 lThe Scale of Foreign Trade Declines Slightly
In addition, according to the current foreign trade situation, China is the world's largest foreign trade country of lead-acid batteries, and its products are mainly exported to the United States, Europe, Africa and the Middle East and other countries and regions. The direct export of lead-acid batteries accounts for about 10% of the total domestic production and maintains a stable growth and good trade situation.
But since 2016, the country has imposed a 4% consumption tax on lead-acid batteries. And the price of domestic lead rose sharply, and the international lead spread of more than 15%. What's more, the labor cost and environmental protection cost increase. Under the influence of the above factors, the export price advantage of China's lead-acid battery products has gradually declined and the export volume has shown a slight trend of decline. Exports of lead-acid batteries in 2019 were 170 million, decreasing 10.4% year-on-year.